Marine Litter .... the usual suspects at my beach
Исследование
Цель
Define an area at your local beach, collect all the litre you can to then categorize it and have valuable data on its type, source, and reason why it gets there.
Гипотеза
What are the main sources of marine littre and how to fight against it?
Оборудование и материалы
Waste collection bags, gloves, tweezers, sieves and growers.
Обоснование
It is very relevant to determine wether different locations have the same or different types of litre so as to address the problem at a global level.
Протокол проведения исследования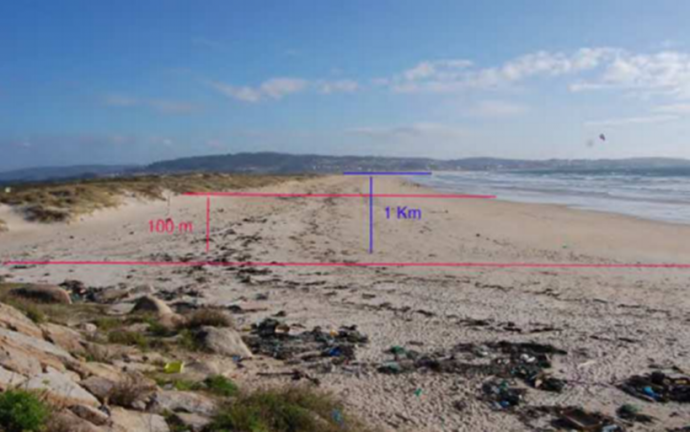 1-beach cleaning and waste collection
a) Identification of permanent reference points to ensure that the same area will be monitored.
b) The sampling unit is a fixed section of beach covering the whole area between the water's edge and the bottom of the beach (as exemplified in the image above).
The guideline developed by OSPAR establishes two sampling units:
- 100 m: for identification of all marine waste items (collecting the waste in the intertidal zone, that is between tides). Students should ensure the activity is performed during low tide;
- 1 km: to identify objects in general greater than 50 cm (students should identify, weigh and classify the type of waste collected)
c) Beaches can be monitored four times a year:
• Winter (mid-December- mid-January)• Spring (April)
• Summer (mid-June-mid-July)
• Autumn (mid-September-mid-October)
Ideally, the chosen beach should be monitored on the same day of each year.
2- gathering, organizing and categorizing
Click on this link to see the OSPAR table of litre categories. The OSPAR is the mechanism by which 15 Governments & the EU cooperate to protect the marine environment of the North-East Atlantic.
After organizing and separating the litre you collected, fill in the OSPAR table in the document, with the quantity of each type of litre.
Use the report form to register all the relevant information to compare with other places of the world.
Here you can find the OSPAR guide with more categories and guidelines on data collection.